XR-12000AL
SKU# 5175184
5,443-kg. Capacity / Quatra™ Scissors Alignment Lift / Includes Turnplates and Slip Plates
---
BendPak's Quatra™ alignment lift is the next evolution in industrial-strength lifting technology. 5,443 kg. of true vertical lifting power for a more compact footprint will better accommodate smaller service bays and work areas. The XR-12000AL provides you full, unobstructed vehicle access.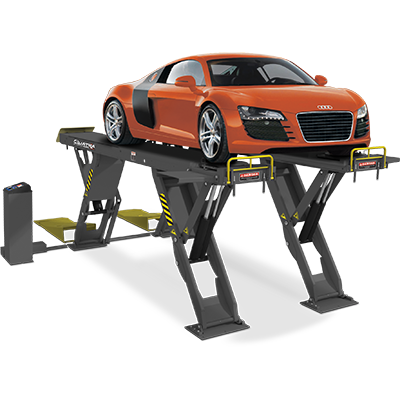 The Quatra™ Alignment Raises the Bar
The Quatra™ XR-12000AL car ​lift revolutionizes the industry by offering a 5,443-kg. ​lift capacity and true vertical lift for a more compact footprint, as well as smaller, more accommodating service bays and work areas. Its unique quad-opposing pantograph scissor design eliminates restrictive arm structures found on other scissor lift types that typically get in the way. The Quatra offers full, unobstructed vehicle access and effortless workspace entry and exit. More space means more freedom for you to work efficiently, which increases productivity profit. No other scissor lift on the market offers the freedom that BendPak's a Quatra lift provides.
The extended-length Quatra XR-12000AL is designed for vehicle alignments and general service work and accommodates a wide variety of wheelbases. Integrated, recessed full-floating front radius plates and oversized rear slip plates enable you to perform four-wheel alignments on a full spectrum of vehicles, ranging from full-size work trucks to compact cars. The Quatra XR-12000AL is also compatible with all leading alignment instrumentation, including 3D systems and camera wheel aligners.
The Quatra delivers straight-up vertical lifting, unlike parallelogram style scissor lifts that require more floor space due to their lateral lifting characteristics. Because there is no forward or rearward movement, the result is a more compact footprint that accommodates smaller service bays and work areas.
Compared to traditional scissor lifts, the Quatra delivers:
Increased work space below the car lift and around the runways
Unobstructed access points for easy entry and exit from the front, rear and both sides
Upfront walk-through for unhindered adjustments
Better by design
With an excellent combination of speed and ergonomic design, BendPak's Quatra pantograph scissor lift improves technician efficiency and productivity, which can help you improve overall profitability. Featuring rapid rise and descent speeds, it positions vehicles smoothly to any desired height with simple-to-operate controls. A six-cylinder master-slave hydraulic circuit provides precise, equalized lifting. It's all done without complicated electronics that often fail when subjected to high-use and soiled work environments.
The Quatra XR-12000AL incorporates a full menu of engineering and design enhancements that provide long-term ruggedness and increased dependability. From the hydraulic cylinders and safety locking mechanisms to fluid controls and pneumatics, all integral system components are enclosed within the runways to help protect them from harmful corrosives and operational damage. With few moving parts and an uncomplicated fluid power system, BendPak's Quatra has an incredibly economical and dependable method of lifting, dominating job after job for many years of trouble-free service.
It's all in the approach
No other ​lift in the industry makes it easier to position vehicles. The Quatra features extendable, hinged, collapsible and stowable approach ramps—an industry first. The extendable approach ramps deliver a range of motion, from ​1,422 mm to an incredible 1,905 mm overall height in mere seconds. Not only does this user favorite make it convenient to drive ground-hugging cars on the runways, but when space is tight, its collapsible and stowable design means you're able to close the shop doors at the end of the day.
In short, the Quatra XR-12000AL is the perfect solution for customers who want one of the industry's most comprehensive lifting packages.
Balanced lifting—it's what we do
Quatra hosits are equipped with an intelligent hydraulic regulating manifold featuring four, two-position ball valves to balance hydraulic pressure accurately between the master and slave cylinders. The result is precise, equalized lifting of the runways. The manifold valve assembly is located at the power console with a removable cover for simple routine maintenance and adjustment.
It's not by chance that BendPak is the global leader in lifting systems. Our passion extends well beyond the products we build—it originates from the natural way we do business. BendPak has earned a reputation for consistent quality through decades of manufacturing experience and uncompromising in-field support. We thrive on continually building our reputation of service excellence by finding better ways help our customers reach their goals. Our lifting products are designed from the outside in, driven by real customer insight. This focus on customer-driven engineering and product management allows us to better understand how our equipment is used, so we can design products to meet and exceed our customers' ever-changing needs. All across the globe, customers recognize our distinctive brands and ask for them by name. Why? Because BendPak represents performance, productivity, reliability and value unlike any other brand on the market.
Better business solutions
Trained, knowledgeable BendPak representatives are positioned throughout the world to best meet your customers' needs. Our authorized dealers not only help you identify the right equipment for your business, they'll connect you with flexible payment options to make getting that equipment easier. Various financing packages and leasing opportunities customized for virtually any budget help you fulfill your equipment needs while meeting your financial goals. Our business solutions don't end there. We work with distribution channel partners around the globe who share our dedication to excellence. We also support our dealers with effective, informative marketing. We strongly believe this car lift is second-to-none, and that's the confidence a proven market leader.
Features
5,443-kg. lifting capacity
Extended runway design for greater vehicle capacity
Integrated recessed full-floating front radius plates and over-sized rear slip-plates
Turn plate pockets feature adjustable leveling bolts for infinite turn plate leveling
Durable powder-coat finish that can withstand harsh environments and chemical spills and will provide years of protection
Extendable, hinged, collapsible, and stowable approach ramps
Multi-position runway work steps
Non-skid runways provide sure grip for vehicles and technicians
Dependable electric/hydraulic power system
Cylinders feature integrated velocity fuses to control sudden descent
Power console features simple operator controls
Open front design with clear center, sides and rear
Multi-position automatic leveling system
Quad automatic safety locks with pneumatic push-button release
Collapsible front tire stops clear for low vehicle skirts and alignment instrumentation
Lubricated-for-life bearings on all pivot points
Rugged steel legs and formed steel runways
Turned, ground, polished and hardened zinc- plated axle pins
Grease nipples on all moving pins and bearings
High-efficiency hydraulic power unit provides faster raising and descent times
Easy access to hydraulic/electrical components for simple routine servicing
Easy-to-use and understand operator controls
Power unit console with easy access front panel
Can be flush-mounted or recessed
Optional Equipment
Optional ​2,721-kg. capacity rolling jacks (model R​BJ6000) make a great addition to increase service capacity. Each jack has telescoping arms and frame contact pads that can be extended over the runways and positioned under vehicle lifting points. Each jack features three safety-lock positions and stackable truck and van adapters for increased lifting height and better access to frame contact points on high ground-clearance vehicles. The jacks come equipped with a commercial grade air-hydraulic pump requiring a maximum pressure of 125 PSI and 10-20 CFM.
An integrated rolling bridge airline kit is available that installs neatly within the runway to create a more tidy hose routing solution for single or dual jack purpose.
The XR-12000AL is equipped with an intelligent hydraulic regulating manifold featuring four, two-position ball valves to balance hydraulic pressure accurately between the master and slave cylinders for precise, equalized lifting of the runways. The manifold valve assembly is located at the power console with removable cover for simple routine maintenance and adjustment.
XR-12000AL Specifications

Capacity
*Max Capacity / Front Axle
6,000
*Max Capacity / Rear Axle
6,000
C - Overall Width
2,274 mm (89.5")
D - Length / Ramps Extended
7,626 mm (300.25")
D - Length / Ramps Collapsed
7,201 mm (283.25")
D - Length / Ramps Stowed
6,350 mm (250")
E - Runway Width
604 mm (23.75")
F - Width Between Runways
1,029 mm (40.5")
G - Length of Runways
5,575 mm (219.5")
H - Min. 4-Wheel Alignment
2,210 mm (87")
I - Max. 4-Wheel Alignment
4,064 mm (160")
J - Max. 2-Wheel Alignment
4,928 mm (194")
K - General Service Wheelbase
5,055 mm (199")
Inside Dimensions
H
- Width Between Columns:
I
- Drive-Thru Clearance:
Runways
L
- Width Between Runways:
or
Alignment
M
- Min. 4-Wheel Alignment:
N
- Max. 4-Wheel Alignment:
O
- Max. 2-Wheel Alignment:
Power Unit
Motor:
220 VAC / 60 Hz / 1 Ph
Note: An air supply (minimum: 30 psi / 3 CFM) is required for the safety-lock mechanisms to disengage. It is solely the responsibility of the end-user to provide, install and maintain the air supply.
Note: Not all BendPak hoist models meet the standards as prescribed by ANSI/ALI ALCTV-2017 or ANSI/UL 201. Consult www.autolift.org for a complete list or contact BendPak via contact@bendpak.com.