SP-7X
SKU# 5175144
3,175-kg. Capacity / Scissors / Frame Engaging
---
This space‐saving, frame engaging scissor lift easily accommodates most passenger vehicles and light trucks and comes complete with safety locks, rubber lifting blocks and an open‐center design for full under‐car accessibility.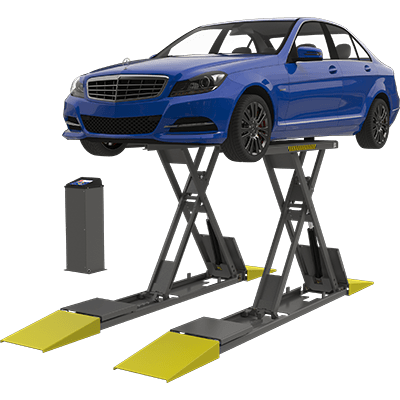 Full-Rise Scissor Lift with Collapsible Frames
The SP-7X is a brilliant design for full-service auto shops, quick-lube pits and anyone who regularly services vehicles without much room to spare. If you need more overhead space for you and your techs, the SP-7X might be the perfect hoist for you. A flush-mount option is also available.
Open-center design
Access all critical undercarriage areas without having to awkwardly stoop or crawl on the floor.
Large base frame
Heavy boxed-steel formed base frame provides excellent stability. Your vehicle should glide smoothly up and down, not rock haphazardly side-to-side. Our sturdy, expanded base guarantees a safe, stable lift.
Electric-hydraulic power system
We incorporate maintenance-free electric hydraulic power systems into each hoist for ultimate dependability, and all controls are conveniently located within close reach.
Dual master hydraulic cylinder
The SP-7X features two hydraulic cylinders with integrated flow restrictors that control descent in the extremely rare instance of a serious hydraulic fluid leak or hose rupture. Two cylinders, one to pressurize each frame, ensure a balanced rise with every lift application.
Pneumatic safety locks
A single convenient operator stand allows you to release the pneumatic safety locks from a safe distance without ever worrying about manually lifting release arms or latches. The locks disengage when the hoist lowers and automatically, and multiple locking positions provide operators with more service options. The locks engage or disengage at each position seamlessly with the movement of the scissor lift frames.
Hardened pivot pins with Zerk fittings
Our "Zerk" grease fittings lubricate essential wear areas, important for keeping the rise and descent action of the lift smooth and safe, as well as preventing damage to the structure of your car hoist. Minor weekly and monthly maintenance tasks will keep your scissor lift functioning for years to come.
Durable, cushioned rubber contact blocks
Four robust rubber blocks come standard with each full-rise pad lift purchase. Since our scissor lifts, like many others, engage the vehicle frame, it's essential that the contact point is well-constructed. This comes as an after-thought to many car hoist manufacturers, but not us. Our blocks are sturdy, thick and textured at the point of contact, so they never slip off the lift point when properly placed.
Detailed installation and maintenance instructions
Your full-rise lift comes with graphic safety decals, maintenance decals, vehicle lifting point guide and a safety instruction placard to train personnel on proper safety procedures and maintenance guidelines. Review and familiarize yourself with every safety feature, warning, do's and don'ts. Read the manual in its entirety before installing your car hoist or (if you had it professionally installed) attempting to operate it.
Choose flush-mount
The SP-7XF is the flush-mount version of our full-rise scissor lift. If your garage has a recessed area of concrete designed to hold flush-mount lifts, you'll be pleased by how "invisible" this hoist is in your garage. When it's collapsed, you're free to drive over it and work around it without tripping on wires or cables. We're proud that the collapsed SP-7XF is extremely low-profile, but if you want to take low to virtually zero, the flush-mount version of this model is the perfect solution for your garage.
Features
3,175-kg. lifting capacity
Pneumatic safety locks
Equalization torsion bar
Hardened pivot pins with Zerk fittings
Open-center design
Ergonomic controls
Dual-cylinder hydraulic design provides extra power
Low-profile
Specifications
Lifting capacity:
3,175 kg (7,000 lbs.)
Max lifting height:
1,727 mm (68")
Overall length:
4,153 mm (163.5")
Overall width:
1,892 mm (74.5")
Lift platform:
47 mm x 1,600 mm (21.5" x 63")
Lowered height:
127 mm (5")
Width between pads:
801 mm (31.5")
Motor:
208-240 VAC / 50-60 Hz / 1 Ph
Shipping weight:
1,054 kg (2,318 lbs.)
Shipping dimensions:
2,692 mm x 1,930 mm x 1,168 mm (106" x 76" x 46")