​Finally... The Wheel Alignment System You Always Wanted
Ranger's premium CRT Wireless Wheel Aligners consistently set the industry standard for accuracy, speed and simplicity of use. Using advanced 8-CCD cameras and infrared light sources, Ranger CRT Wireless Wheel Aligners are capable of accurately determining angles and calculations to an astonishingly high degree of precision.
Ranger wheel aligners include ProSpec® software, which interprets data and brightly displays all the alignment procedures on a sharp, high-contrast flat-panel monitor. Any would-be mystery is thus completely removed from the process, and you're left with a step-by-step process that results in perfect wheel alignments. Technicians follow the onscreen instructions and receive immediate feedback and correction. It's that easy. The wheel aligner's functionality and sophistication is leaps and bounds beyond anything else in the industry, so if you're looking for the best wheel aligner that can make the biggest difference in your shop, look no further. Just ask anyone fortunate enough to have worked with one of our units.
Now you can reduce come-backs, enhance your accuracy and easily train your personnel, all with one incredible product. As a result, you increase your bottom line! We love to work with all of our BendPak / Ranger lifting and jacking equipment, but the truth is that your business lives or dies based on your ability to get a vehicle down and out the door ASAP—always with perfect, factory-quality precision. A wireless wheel aligner from Ranger places equally high priorities on speed as it does accuracy, so you can align your clients' wheels better and faster than your competition.
FREE On-Site Training with Purchase!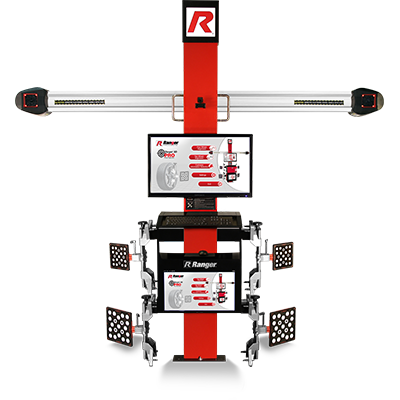 3DP4100R
(5140101)
Target 3D Pro Imaging Aligner (Complete) INCLUDES SET-UP & TRAINING
The Target 3DPro™ is one of the fastest and most accurate wheel alignment systems in the industry, thanks to advanced imaging technology that delivers fast, accurate alignments. A graphic display is used along with high-definition cameras to provide visual and directional assistance.