Best Car Lifts in the World
BendPak Helps You Find the Perfect Lift
An auto lift by BendPak consistently delivers on a promise of breakthrough quality and unsurpassed engineering excellence. Our legacy of superior craftsmanship is built deep into each and every one of our car lifts. To deliver on our promise, we go through every effort to get our automotive lifts ANSI/ALI certified. These standards change over time, and not every ​automotive lift company bothers to keep up. We redesign our car lifts regularly to meet changing certification standards, so if you have any questions about safety, please don't hesitate to call us and speak to a customer service representative at any time.
Excellence in Manufacturing
As part of our mission to manufacture the safest car lifts on the planet, BendPak lifts are better built and heavier-duty than the competition. Standard features, such as extended, single-piece column pieces, internally routed chain-over drive systems, direct drive lift and ergonomically placed controls, exist on our car lifts because they make for safer, longer-lasting products.
Designer Car Lifts: Why should shop owners and DIY'ers care? »
---
---
---
---
---
---
---
---
---
---
---
Experience That Counts
You don't last too long in this industry without consistently setting yourself apart in the way you do business, and BendPak has been around for over 50 years! We're always willing to go the extra mile to make you feel satisfied when you choose BendPak, and we do everything in our power to ensure you stay a customer for life. It isn't enough to be the global leader in premium automotive service products such as two-post lifts, four-post lifts, alignment lifts, pipe benders and air compressors. At BendPak, we're dedicated to winning customers and earning their trust by offering unparalleled value and fostering lifelong business relationships to the benefit of everyone involved.
We're always pushing the industry standard up another notch, and though the competition may try to mimic us, their lifts will never be BendPak lifts, and their service will never be BendPak service. Navigate through our about pages to find out more about what makes BendPak the world leader in customer satisfaction and product quality. If it's a BendPak, you know you're lifting with the best.
Before You Purchase a Car Lift (in Three Easy Steps)
Step 1: Car Lift Purchasing Guide
There's so much to know about car lifts that it can be tricky to make a final decision. Our purchasing guide will go into every aspect of purchasing a car lift: style comparisons, safety information, pricing, shopping tips and more. Don't be intimidated—BendPak is here to help! The best thing you can do before you buy is simply make yourself comfortable with your purchase. Our purchasing guide is a good first step.
Best Car Lift Purchasing Guide
Step 2: Car Lift Facts Study
We've put together a Facts Study in order to show you how BendPak sets itself apart from the competition. In this section, you'll find car lift comparisons to Rotary Lift, Challenger Lift, Direct Lift and studies on other brands. We could brag about our accomplishments all day, but we really want you to see why we do what we do; to this end, we're bringing you inside the working structural components of our car lifts. We want you educate yourself as much as possible before making a purchase.
First, all parts are visually inspected before being sandblasted. The parts are then washed in our 5-stage phosphate tanks that can accommodate equipment up to 25' long. Once cleaned, all parts are immediately dried (to avoid rust production) and outgassed. Outgassing pre-bakes the parts in a curing oven, reducing the possibility of blemishes that may be hiding in the pores of the metal. If not properly outgassed, imperfections in the metal may bubble during the curing process and cause chips in the powder.
After the parts are washed and outgassed, any surfaces and/or threaded holes that need to be masked or plugged are done so with high-temperature masking tape and silicone plugs. Next, the parts are given a quick thinner wipe to remove any light debris or fingerprints before being hung on an electrostatically grounded conveyor line. The powder is finally applied with an electrostatic spray gun. The powder "sticks" on the surface like dust sticks to a television screen. Once the parts are powder-coated, the carts are rolled into our curing oven and baked at 400° F for 45 minutes.
Step 3: Read BendPak's Best Car Lift Reviews
It can be hard to know who to trust when it comes to reviews, so we took the liberty to assemble a guide that takes some reliable third-party reviewers and put all of their great advice in one place. We picked reviews that will show you a multitude of lift options, and BendPak is a constant presence on these sites. Each review will show you around different car ​lift types and brands, but you're sure to see a few of BendPak's best-sellers on multiple lists. In fact, BendPak tends to get the best car lift reviews. See for yourself!
Interested in making your BendPak lift your own?
When we switched our standard car ​lift color scheme from BendPak's famous blue to Gunmetal Gray, we took into account the fact that some people still prefer to customize their lifts. While the vast majority of our customers prefer Gunmetal Gray, the BendPak blue is still available as an option, as well as Graphite black and Seca Red.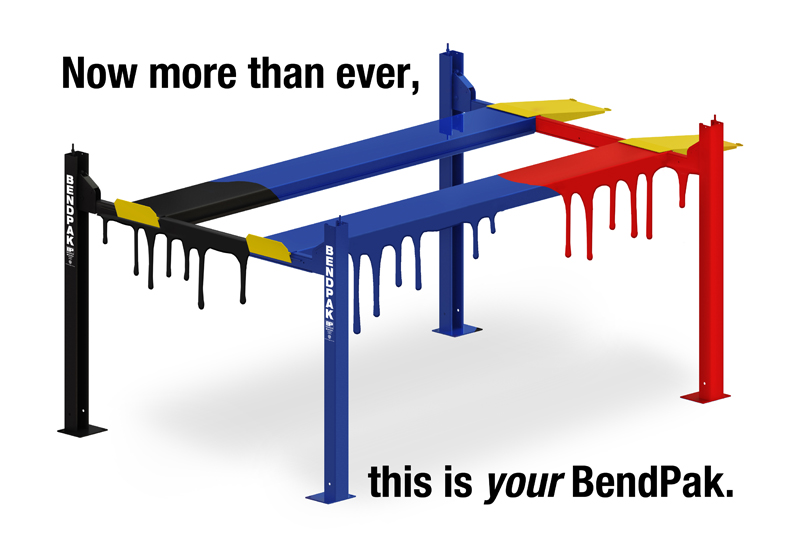 All Car Lifts are Sold with Detailed Instructions
Included with every ​lift are detailed installation and maintenance instructions, graphic safety decals, maintenance decals, a vehicle lifting point guide and a safety instruction placard to train personnel on proper safety procedures and maintenance guidelines.
The BendPak 5-2-1 Warranty: Better Products - Better Service - Better Value
For more than a decade, ​Australia's best lifts have been coupled with the best warranty in the business. Instead of hiding behind a long veil of marketing fluff, we're proud to deliver our warranty upfront for all to see. To make sure we deliver our customers products worthy of our 5-2-1 warranty, we developed our Design-Build-Quality-Deliver directive. This Zero-Tolerance for Defects initiative, combined with our 5-2-1 Warranty, is BendPak's way of backing up what we claim. We employ a dedicated team of design engineers who are responsible for detecting and correcting any issue, no matter how small, before it gets to the customer. Five years is a long time, so we've got to get it right before we ship. The best warranty in the business gives you more than just peace of mind: it stands as proof that we take a little extra care building your ​lift, and every precaution is taken to maintain the highest degree of quality, dependability and reliability.