Experience the Pure Power of BendPak USA Made Air Compressors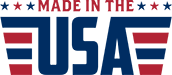 BendPak air compressors are now made in the USA and have a well-earned reputation for high performance and dependability. When you're concentrating on a project, you shouldn't have to worry about the temperature or moisture inside your air compressor; you just need a unit that works as hard as you do.
Our highly efficient ​Patriot line of air compressors are perfect air-pumping powerhouses that feature rugged cast-iron construction, high-quality Manchester Tanks, true copper piping for cooler operation, pressure control and extra-large pumps. We offer a variety of motor options for our ​Patriot air compressors, such as one or three phase, 50 or 60 Hz, and 5 horsepower, 7.5 horsepower, or 10 horsepower. All vertical models come standard with rugged 1/2-inch anti-vibration pads to keep the unit still during operation.
BendPak Patriot Series air compressors directly resist temperature and moisture concerns with larger pistons that operate at lower speeds. Fewer rotations per minute directly results in lower operating temperatures, but thanks to the larger piston size, you don't have to sacrifice performance. With lower a temperature comes much less moisture, ensuring your Patriot Series air compressor has a long and happy existence in your shop or garage. Whatever your high-pressure air requirements, BendPak has exactly what you need.
Is a Rotary Screw Air Compressor Worth the Cost?
There are many things to consider before you decide a rotary screw air compressor is worth a higher price. Such compressors are much quieter than traditional reciprocating (piston-type) compressors, but they're also more expensive. Then again, they tend to require less maintenance over time and can operate continuously, which makes them ideal for busy shops. This guide will walk you through your options, so you have what you need to get the BendPak air compressor with enough horsepower and CFM for your budget.
---
---
---
---