Transmission Jacks are Fundamental Garage Tools
One of the most popular and fundamental tools that needs to be in almost every auto and truck repair shop is the transmission jack. These powerful, multi-task lifting systems are essential for a wide range of service jobs. Unlike a conventional hydraulic floor jack or bumper jack that raises a vehicle using either the chassis or axles, a transmission jack is positioned centrally under the vehicle and lifts the transmission via a lifting platform attached to the transmission jack lift frame.
If you've ever replaced a major component on a lifted automobile or truck, then you know how essential a reliable transmission jack can be. Ranger's outstanding selection of beefy transmission jacks is perfectly suited for holding and rolling just about any drive-train component in existence. Our transmission jacks have it all: heavy-duty chain anchors, overload safety systems, adjustable/sliding saddles, different pumping options, durable steel construction, alloy plated rams and holding capacities ranging from 299 kg to 1,361 kg.
---
---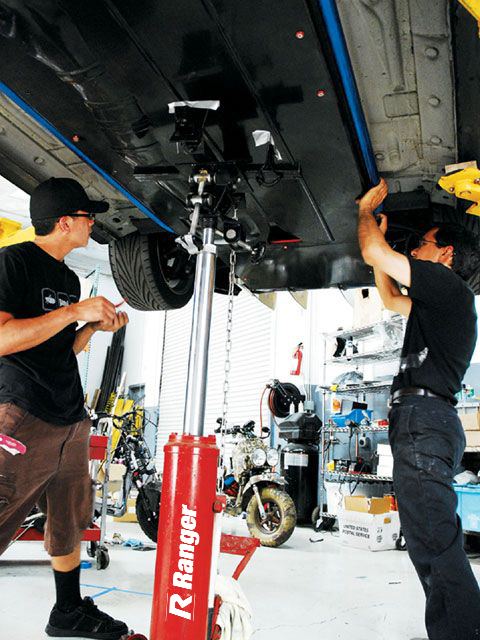 New Designs for a Classic Purpose
Typically, when removing a transmission, differential or gear box from a vehicle, you elevate the automobile or truck on a car hoist (e.g., two-post hoist, four-post hoist). The transmission jack is then positioned centrally beneath the vehicle's transmission and raised slightly until the transmission jack lifting platform comes in contact with the flat surface of the transmission. After determining the transmission jack is centrally positioned and properly stable, the jack is then raised further to elevate the entire weight of the transmission, so it can be safely removed from the engine block. Once elevated, the hydraulic transmission jack can be raised further to allow adequate removal clearance. Prior to removal, it is important to secure the transmission to the lifting platform via straps or chains that are typically included with each transmission jack.
Most passenger cars have fairly lightweight transmissions that can be handled effectively by a transmission jack with a lifting capacity of 499 kg. The RTJ-1100 transmission jack is perfectly suited for tasks like this, as it offers an ideal blend of over-engineered safety, durability and affordability. It features fully-adjustable/sliding saddles and can be moved by a single mechanic. Heavy-duty construction means it's tough enough to handle the workload of busy shop environments. The RTJ-1100 Transmission Jack also features a space-saving 610-kg. base and convenient foot-operated pump.
When working on larger vehicles, such as utility and fleet trucks, you'll need a transmission jack with a higher hoist capacity, typically ​907 kg – 1361 kg. Heavy-duty transmission jacks are designed to be completely stable when handling heavier assemblies and are easy to maneuver to ensure that large component removal is as effortless as possible. Heavy-duty models like the Ranger TransJak™ or the Ranger RTJ-3000 transmission jack tackle the large stuff but are still convenient and mobile enough to service smaller automobiles.
As the makers of the original, highly-praised 454 kg. capacity TransJak transmission jack, Ranger continues to bring you the very best in transmission jacking equipment. For almost two decades, the Ranger TransJak has been the best in its class for service professionals worldwide. The TransJak features a fully-adjustable/sliding saddle that adapts to just about any passenger car and light truck transmission. Its heavy-duty construction, high lifting capacity, convenient chain anchors and fail-safe overload system mean it will outlast just about every tool in your shop.
Apart from the lifting capacity of a transmission jack, you'll also need to consider whether you require a high or low-profile jack. The most popular style of transmission jack is the vertical style that features an upright lifting cylinder attached to a mobile multi-caster platform. Low-profile transmission jacks, however, are best suited for workshops that have no car hoist or truck hoist to raise the vehicle in the air. They're also perfect for busy shops that don't have space for another full-size car hoist but want the ability to perform additional service wherever available—sometimes temporary—space can be found. But when no other transmission jack can do the job, the heavy-duty RTJ-3000 Transmission Jack boasts an impressive 1.4-mt holding capacity, taking truck and van component-swapping duties in stride.