PL-14000
SKU# 5175440
6,350-kg. Capacity / 3-Level Parking Lift / Multiple Heights / SPECIAL ORDER
---
BendPak's PL‐14000 parking lift is designed for indoor or outdoor operation and is the most cost-effective way to triple the capacity of typical parking spaces. With multiple frame dimensions and closeout leg options, the perfect three-level auto stacker is durable and extremely reliable.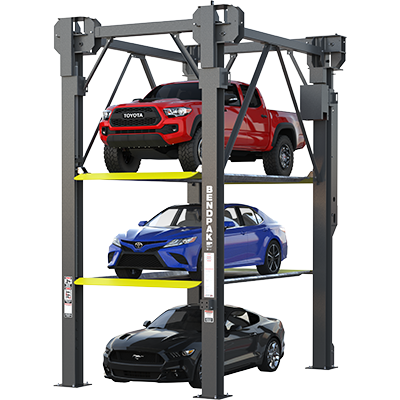 Go Three High to the Sky
The PL-14000 by BendPak is a four-post parking lift designed for both indoor and outdoor lifting and parking operations. It's engineered to be the most cost-effective way to triple the capacity of a typical parking area. Shared, ganged columns increase value by reducing the number of components required for multi-unit installations. Each triple stacker parking lift uses a specially designed base frame that distributes the load, making these unique lifting systems suitable for installation on virtually any residential or commercial concrete floor.
Stack three vehicles in a single parking spot
The PL-14000 parking lift by BendPak can accommodate both cars and SUVs and may be configured as a stand-alone parking lift or combined into rows of multiple units. Each deck supports up to ​​3,175-kg. When installed in rows of multiple units, the lifts share columns, dramatically increasing space efficiency. The rugged frame utilizes a dependable hydraulic and cable-based lifting system for ultimate efficiency and safe operation.
Each stacking parking lift system incorporates many distinctive features, such as a full-width platform to keep bottom vehicles protected, a single hydraulic lifting cylinder combined with heavy-duty steel lifting cable, automatic safety locks and reliable and an ergonomic hydraulic power unit. Leak-proof cylinder technology is only available for BendPak four-post ​lifts.
These state-of-the-art lifting systems are well-suited for commercial parking environments and are powered by independent electric-hydraulic pump units or a multi-unit power station pump system that can operate up to 10 lifts, depending on the configuration, layout and other technical factors. They can be configured for 208-230V, 380V or 440V operations, with international voltages also available. Multi-unit pump systems require their own dedicated 3-phase power circuit.
At BendPak, we believe in creating solutions that simplify your life. Our history of manufacturing excellence began more than 50 years ago, and we continue to design and manufacture innovative car lift solutions with features and operating characteristics that meet customer requirements for quality, reliability, safety and value.
Customize your lift
If you have a ceiling high enough for a triple-stacker, BendPak offers models with overall heights of ​5,359 mm / 5,969 mm / ​7,137 mm, and these ​lifts are fully customizable. The PL-14000XL, for instance, comes with an extended frame, so limousines and other extended-length vehicles can be lifted with ease. Each model features a set of unique closeout legs that are available for purchase. These sets are sold separately.
Features
3,175-lb. capacity per deck / ​6,350-kg. capacity total
Perfect for cars, light trucks, motorcycles and ATVs
Rugged I-beam and C-channel construction
Built-in wheel stops
Wide base-plate for maximum stability
Front and rear wheel chocks
Two-position fail-safe locking system
Superstructure features durable powder-coat finish
Single hydraulic cylinder with heavy-duty steel lifting cable
Heavy-duty steel construction
Reliable electric-hydraulic power system
Full-width platform to keep bottom vehicles protected
Simple controls
Oversized sheave diameter reduces cable fatigue
High-speed lifting
Features heavy-duty 1​0 mm aircraft cable
Rugged ​​32 mm roller axles
Multi-position safety locks in each column
Adjustable lock ladders
Runways feature non-skid surface
Push-button pneumatic safety release
Independent backup slack-cable safety latches
Inside runways adjust for different tread widths
Customizable power unit location
Removable approach ramps for additional drive-under clearance
Optional 2,041-kg. air / hydraulic rolling jacks available
PL-14000 Specifications
Style
Style:
Multi-Level Parking Lift
Overall Width
3,023 mm (119")
Overall Length
4,931 mm (194")
Platform Length
3,480 mm (137")
Overall Height
7,121 mm (280.3")
Upper platform spacing
2,451 mm (96.5")
Middle platform spacing
1,921 mm (75.5")
Bottom Spacing
2,100 mm (82.5")
Drive-thru clearance
2,316 mm (91")
Voltages
208-230-V, 380-V or 440-V
Note: An air supply (minimum: 30 psi / 3 CFM) is may be required for the safety-lock mechanisms to disengage. It is solely the responsibility of the end-user to provide, install and maintain the air supply.
Note: Not all BendPak hoist models meet the standards as prescribed by ANSI/ALI ALCTV-2017 or ANSI/UL 201. Consult www.autolift.org for a complete list or contact BendPak via contact@bendpak.com.