RS-750D
SKU# 5155098
Truck Spray Wash Cabinet With Skimmer / Deluxe / Dual-Heaters / Low-Water Shutoff
---
This powerfully versatile, 201-L (53-gal) capacity spray wash cabinet degreases even your filthiest car parts in no time. The incredible 454-kg weight capacity holds some of the biggest car, truck and SUV parts on the market. Comes with free bucket and soap.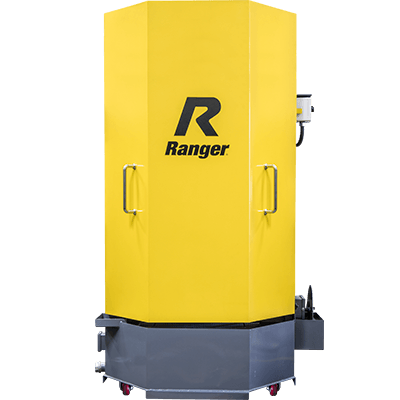 Ranger's Extra-Massive Hot Wash Spray Cabinet
Sometimes a product is designed so well, hardly anything needs to change. That's how we felt about the RS-500D parts washer, but we also realized that some car and truck components are just too massive to fit in the cabinet. Plus, a larger enclosure means more parts can get washed in fewer cycles. That's why we made the RS-750D, the 201-L (53-gal), 454-kg capacity parts washer to end all parts washers. This machine is truly massive. It stands over 1.8 m tall and has that coveted look of power you want in your shop. It's not just looks, of course. The RS-750D holds twice as much weight as the RS-500D and features a longer spray system to accommodate the increased size. That means a larger supply of bigger components gets just as clean as before. The only difference is that now you can save time by washing more stuff at a time.
Fast-release door latch / gasket-free door
You might expect a massive parts washer to feature a big, heavy lock. On the contrary, a simple flip of the wrist releases and closes the rubber-tipped lock handle, while the gasket-free interlocking door prevents water, detergent, gunk, grime, oil, etc. from leaking out and contaminating your flooring.
Neoprene door seal
A leak-proof neoprene door seal creates an edge-to-edge seal to improve water and steam retention. This eliminates spills and evaporation by as much as 35%. Less escaped steam means water levels stay higher, longer, and cleaning procedures are more efficient.
Movable filter basket
Particles greater than 3 mm will get trapped in a robust filter, and the filter basket can be removed in order to gain access to the cleansing tank. All this makes your periodic maintenance a breeze.
Multi-directional sprayers
Grime never stands a chance against the RS-750D's powerful, extended-length sprayers. From top to bottom, our industrial spray jets destroy gunk and oily build-up. They literally blast grime away while the detergent simultaneously dissolves virtually all residue on your parts and vehicle components.
Steel oil skimming system
Your parts washer wouldn't be complete without a stainless-steel oil skimmer to remove oil from water and dump the waste conveniently into a storage container outside the washer. This keeps your detergent clean and functional and drastically reduces the intensity and duration of periodic maintenance requirements.
Contamination-proof cabinet welds
Rugged welds cover the full perimeter of the inside shelf of the cabinet. They seal the cabinet wash area from the detergent tank, preventing debris from getting into the recirculating tank. Not even tiny, microscopic debris will get into the pump and spray nozzles. Instead, it will be redirected to the debris trap and filter. This process keeps the spray wash cabinet from clogging and causing profit-killing downtime.
Stainless steel nozzles
Pipe-tree and drilled holes are replaced by easily replaceable/adjustable stainless steel spray nozzles. These components are extremely durable and resistant to clogs. They're totally corrosion-resistant with well-articulated spray grids to maximise washing efficiency. The cleaning solution is evenly dispersed, improving both flow rate and pressure.
Low water shut-off
A low water cut-off rescues the dual heaters from damage and downtime. An industrial-grade stainless steel tank float rises when the water tank is full, and it descends as water evaporates slowly over time. Once water levels get too low, the washer will cease operations, even mid- wash. This crucial, self-regulating feature eliminates the risk of irreversible pump-seal damage and heating coil burnout.
Dual heaters
Two water heaters work together to ensure your spray wash cabinet heats up within seconds. To keep things moving, an efficient secondary heater acts as a detergent pre-warmer. The smaller heater keeps the water primed and ready at a moment's notice. Once the larger, primary heater activates, it rapidly heats the pre-warmed water and cleaning solution. This system increases efficiency by ensuring water is always ready to go.
NEMA-rated electrical panel
The same neoprene material that prevents steam from escaping the spray wash cabinet protects the edges of the NEMA-rated electrical panel door. It keeps all moisture out of the panel and further ensures your panel is protected from dust and debris. The electrical system itself is extremely well organised, and all circuits are easy to find. Smart circuitry prevents nuisance breaker tripping and enhances overload/overheat detection and protection. The panel features control breakers, a thermostat, oil skimmer timer and turntable timer. The red light on the outside of the panel connects to the low-water detection system. Sound and light indicators persist when water levels are low, and the machine will not enter or continue a wash cycle until water is added to the tank.
Double-pole circuit breaker
The Eaton Cutler-Hammer 20/30 amp Quadplex Double-Pole Type BR Circuit Breaker features a 2-pole, 20 amp breaker for the heater and a separate 2-pole, 30 amp breaker for the motor and pump combination.
Non-marring casters
The RS-750D is no lightweight machine. In order to prevent marring or damage against your flooring, Ranger uses urethane casters instead of steel ones. The hardened rubber is totally non-marring, rugged enough to handle an incredible amount of weight and resistant to weather and other hazardous shop conditions.
Durable turntable
A friction-drive turntable is the system behind the parts washer, and it cuts out the risk of motor damage by preventing jams that might otherwise occur within the cabinet and tank.
Industrial casters and convenient tank drain
The RS-750D is taller than many full-grown men, but it's actually quite easy to push around the shop. Pipe drains are integrated into the sides, preventing sludge and oil from accumulating at the bottom of the tank.
Safety switch and timer dial
Whenever the tank door is opened, an automatic switch detects the movement and shuts off the wash cycle. Additionally, a 60-minute timer lets operators manually set cycle times for each wash.
Removable tree rack and components basket
Essential to our parts washers are the quick-mount tree rack and the parts basket that hangs off the rack. The tree rack extends into the tank space and lets operators hang stainless-steel baskets full of smaller parts and components that need washing (e.g., bolts, nuts, screws). The rack is made extra-long, so you can get the most out of that 454 kg of weight capability your parts washer has to offer. The rack is easily removed and just as easily replaced.
Commercial-grade pump / motor combination
A centrifugal pump, located in the back of the parts washer cabinet, features a protective cover made out of 100% ductile cast iron, while silicon carbide seals keep the machinery safe and dry. Stainless steel impellers and screw nuts resist rusting, and Nitrile NBR O-rings and carbon steel brackets make for an extremely smart and efficient design.
Hot cleaning
A nickel-based, alloy-sheathed heater element achieves fast water-temperature heating. The element is designed specifically for industrial parts washers and intense parts washing applications.
Thermostat
An adjustable thermostat can be set to temperatures up to 80°C.
Aluma-Klean soap removes oil, stains and grease with ease
Ranger uses Aluma-Klean spray-wash detergent, is a mild parts cleaning soap generally used to clean aluminium, stainless-steel components and other delicate parts without whitening the surface. Aluma-Klean parts cleaning soap is not a solvent, but rather a non-foaming, low pH, mild-alkali, water-soluble, powdered detergent especially formulated for high pressure heated parts washing systems. Incredible cleaning action removes grease, oil, baked on stains, carbon, protein and even some paint types.
Features
Heavy-duty steel construction
Safe aqueous operation: No harsh chemicals
200 L (53-gallon) tank
Dual water heaters for quick startup
Heated cabinet w/ adjustable thermostat
High-power spray jets clean parts fast
Automatic low water shutoff
Removable tank screen
Stainless oil skimmer
Removable parts tree
Powder coat finish
Stainless steel nozzles
Full opening octagonal door
Large drain pipe
Heavy-duty casters
Friction-drive turntable system
Neoprene-sealed wash cabinet
Contamination-proof interior welds
Gasket-free door
Small parts basket
Stainless steel handles
Free bucket and soap included
Specifications
Overall height:
78" (1,981 mm)
Inside height:
54" (1,372 mm)
Inside width:
32" (813 mm)
Turntable diameter:
30" (762 mm)
Recommended floor space:
44" x 43" (1,118 mm x 1,092 mm)
Load capacity:
1,000 lbs. (454 kg)
Cycle timer:
0 - 60 minutes
Steel construction:
12 Gauge / .109 thickness
Pump output:
70 psi @ 70 gpm
Motor:
1 HP / 220 VAC / 60 Hz / 1 Ph
Shipping weight:
960 lbs. (435 kg)
Shipping dimensions:
36" x 44" x 68" (914 mm x 1,118 mm x 1,727 mm)