Large 76 mm Die Package
SKU# 5105570
Optional 300-1 Large 76 mm Die Package / 6-Piece / Purchased with Pipe Bender
---
Optional 6-piece, 76 mm die package extends the bending capabilities of your BendPak pipe bender.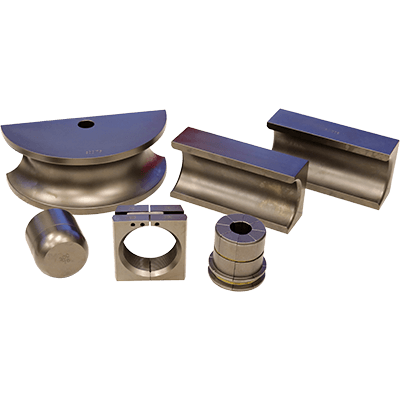 A Bigger Die Package for Perfect, Uniform Bends
A 76 mm bending capacity is built into every BendPak pipe bender, so all you need are these specialty dies to unlock your full bending potential. These dies are the product of our exclusive step-cut manufacturing process that actually helps contain the larger-sized tubing for a more uniform bend. It's just another fine example of BendPak's commitment to innovative bending technology. Not only can you bend 76 mm tubing, but we've made it possible for you to expand and flare it as well. Turn that big tubing job into a much smaller, more manageable task.
All BendPak tooling is precision-machined from solid steel. After the CNC machining process, the tooling is gas-carburized, oil-quenched and heat-treated to a minimum hardness of 58 Rockwell. No cast or ductile (brittle) iron is used in the manufacturing of any of our tooling.
Features
Made from precision-machined solid steel
Step-cut manufacturing process contains larger-sized tubing
Gives BendPak benders the ability to bend 76 mm OD tubing
6-piece set
Large 76 mm Die Package Specifications
5R-300 5" Radius Bending Die
1
HAC-300 Hinged Adapter Collar
1
STED-300 Solid Expander Die
1
Shipping Weight
83 lbs. (38 kg)
Shipping Dimensions
13" x 13" x 4" (330 mm x 330 mm x 102 mm)