Small 76 mm Die Package
SKU# 5105567
Optional 300-2 Small 76 mm Die Package / 4-Piece / Purchased with Pipe Bender
---
Optional 4-piece small die package extends the bending capabilities of your BendPak pipe bender.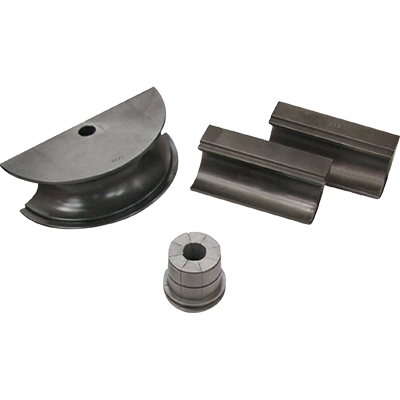 The Perfect Small Die Bending Package
A 76 mm bending capacity is built into our pipe benders, and this small, custom die kit is the product of our exclusive step-cut manufacturing process that contains larger-sized tubing for a more uniform bend. You can bend 76 mm tubing, but you can also expand and flare. The bending possibilities are virtually endless!
All BendPak tooling is precision-machined from solid steel. After the CNC machining process, the tooling is gas carburized, oil quenched and heat treated to a minimum hardness of 58 Rockwell. No cast or ductile (brittle) iron is ever present in any BendPak pipe bender tooling.
Features
Made from precision machined solid steel
Step-cut manufacturing process contains larger-sized tubing
Gives BendPak benders the ability to bend 76 mm OD tubing
4-piece set
Small 76 mm Die Package Specifications
5R-300 5" Radius Bending Die
1
Shipping Weight
60 lbs. (27 kg)
Shipping Dimensions
13" x 13" x 4" (330 mm x 330 mm x 102 mm)