RST-500ES
SKU# 5150103
Engine Support
---
Ranger's RST-500ES offers 680-kg. of engine support to safely hold the weight of your engine while you conduct basic service and maintenance. Perfect for shops and home garages alike.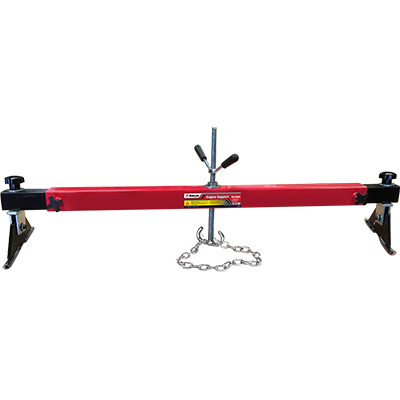 An Engine Support that Saves Techs Time
The engine is the heart and soul of a vehicle. Don't trust its care to anything but Ranger. If you're replacing or servicing engine mounts but don't want to lift the entire engine to do so, save time and money with a superior-quality engine support beam. Professionals and DIY'ers both benefit from having an engine support hand for fast access to the engine.
The RST-500ES is designed for unparalleled adaptability: threaded adjustable chain hooks and telescoping side foot pads adjust to all manner of engine compartments. Wheel well to wheel well support provides a solid foundation for up to 680 kg. of engine while you're working on the transmission or dropping a sub-frame. This engine support is both easy to use and saves real time, every time. And we all know that in this business, time means money.
Features
Straddles inner fender wells to support engines
Adjusts to fit all vehicles
Precisely positions engine for easy gear box and transmission removal
Perfect for 4 and 6 cylinder engines
Rubber foot pads prevent damage and holds load securely
Specifications
Holding capacity:
1,500 lbs. (680 kg)
Maximum width:
63" (1,600 mm)
Minimum width:
40" (1,016 mm)
Screw travel:
13" (330 mm)
Shipping weight:
50 lbs. (23 kg)
Shipping dimensions:
41" x 8" x 3" (1041 mm x 203 mm x 76 mm)