RWB-2D
SKU# 5145330
Heavy-Duty Work Bench / 2-Drawer, 1-Shelf
---
The RWB-2D is a large workbench that helps you keep your shop clean and organized. With two high-quality locking drawers and almost 427 sq. cm of work area, this bench is perfect for preparing and working on projects of all sizes.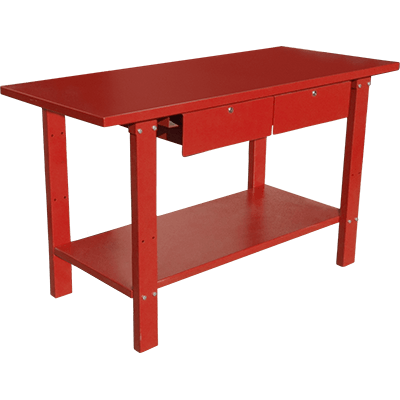 Compact Design and Full Functionality
When you need a sturdy workbench for a big job, look no further than Ranger. This 2-drawer unit is a couple feet shorter than the RWB-2S, so if your space is too tight for the full, 4.3 m workbench, this "smaller" bench should do the trick. Still, for many shop owners and garage enthusiasts, 3.7 m is more than enough, as it accommodates multiple operators at the same work station. The 150 cm width lets you hammer, wrench and assemble what you need to while offering plenty of room for tools, parts, nuts, bolts, etc. off to the side.
Two lockable drawers keep smaller items organized and safe overnight or when not in use. Our 4 mm HD rolled edge steel construction goes a long toward ensuring the safety and security of your tools. Both drawers fully extend on smooth ball bearing slides, which require absolutely minimum attention and maintenance for the years and generations we hope this lift stays in your shop or family. A single wide shelf is positioned to let you keep larger objects stowed conveniently near your feet.
The classic "Ranger red" coloration is bolstered by an electrostatic, oven-baked protective powder coating and durable rolled edge construction for superior rigidity. We don't make workbenches to service you for a couple months before needing replacement: our parts simply don't wear significantly or break down, and other than a few surface scratches and other signs of a true mechanic's love, you'll look at this bench ten years from now and marvel at how it stood the test of time. You'll probably wonder how you could have done without it.
Features
Glossy, red finish
Electrostatic oven-baked powder coat
Rolled edges for added strength and rigidity
Full-extension ball bearing drawer slides
Tumbler key-lock pivot drawer latching system
​4 mm HD rolled edge steel
Specifications
Shipping Weight
210 lbs. (114 kg)
Shipping Dimensions
29" x 61" x 14" (737 mm x 1,549 mm x 357 mm)