RWL-150T
SKU# 5150355
Pneumatic Wheel Lift Fits R980XR and R980AT
---
Ranger's RWL-150T is the efficient, hassle-free lifting solution for heavy tyre and wheel combinations. Save time, money and your technicians' backs, all while eliminating the inefficiency and danger of lifting tyres in your shop.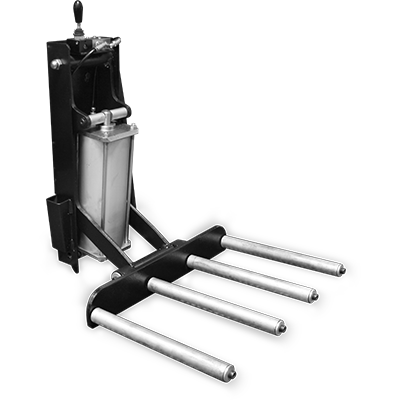 Break Beads, Not Your Back
This optional wheel lift adapts easily to Ranger R980XR​ and R980AT tyre changers, helping reduce workplace fatigue and minimise injuries often associated with the manual handling of heavy wheels and tyres. The lever‐controlled wheel lift quickly raises your wheel and tyre assembly for easy mounting on the tyre changer turntable. One-handed operation means the technician's free hand can control the wheel assembly during use. The RWL-150T pneumatic wheel lift handles wheels up to 68 kg. and takes up minimal space in your shop or garage. Perfect for home and professional use.
Features
Comes complete with all mounting hardware
Enclosed lifting carriage and cylinder protect it from dirt and other debris
Simple one-hand operation for raising and lowering the lift
Offset column gives access to lug nuts and allows unobstructed viewing of work area
Features air regulator, water filter and lubricator for maintenance free pneumatic operation
Welded steel construction
Powder coat finish
RWL-150T Specifications
Min. Air Supply
125 PSI (8 CFM)
Lifting Capacity
150 lbs. (68 kg)
Max. Saddle Height
28" (711 mm)
Min. Saddle Height
2" (51 mm)
Saddle Dimensions
17.5" x 11.5" (445 mm x 292 mm)
Shipping Weight
45 lbs. (20 kg)