Truck Adapter Package
SKU# 5150161
Truck Adapter Package (32 pc) / Fits RL-8500 & RL-8500XLT
---
The RL-8500 truck adapter package upgrades your RL-8500 brake lathe into a fantastically versatile truck servicing dynamo. This super-duty, brake lathe truck adapter package consists of an upgraded 47.6 mm arbour and a wide variety of adapters.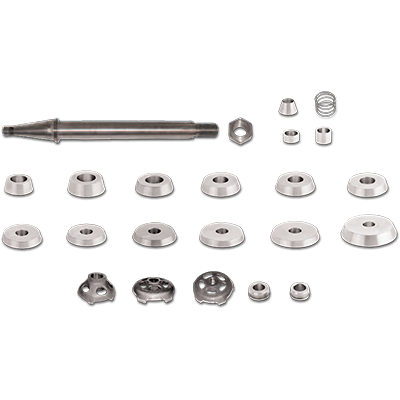 Service Truck Brakes with this Adapter Set
This enormous, multi-piece brake lathe truck adapter set allows you to expand your brake service coverage on the RL-8500 brake lathe and handle virtually any vehicle, all the way through 1-tonne trucks! Let no level of brake service exceed your capabilities with this exclusive set of Ranger's truck adapters.
Features
1 truck arbour
1 arbour nut
2 spacers
3 hubless adapters
2 double taper adapters
13 centring cones
1 spring
Truck Adapter Package Specifications