R745
SKU# 5140148
Tyre Changer / Swing Arm / 533 mm Capacity
---
The Ranger R745 is a basic tyre changer for entry-level tyre and wheel service. It's ideal for performing rapid wheel service on most types of passenger wheels, as well as spare tyres and trailer tyres.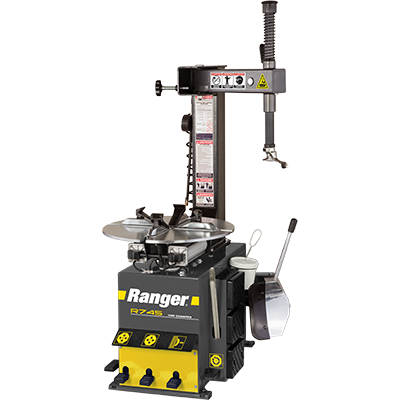 The Fastest Wheel Service in the Business
You know what you need. And if what you need isn't that complicated, the Ranger R745 is the only tyre changer you may ever put in your shop. Ideal for gas stations, roadside tyre shops, small personal operations or as a backup for your more specialized tyre machine. The swing-arm design lets you load tyres fast, and the steel clamps are perfect for passenger cars, daily commuters, spares and trailer tyres. There's nothing fancy here, and frankly, some people just want it that way.
Only pay for what you need
The Ranger R745 is a rigid tower tyre machine designed to handle the needs of heavy volume tyre shops. A sturdy body, rigid 45mm hexagonal vertical shaft and hardened-steel horizontal outrigger support arm eliminate flex during all tyre service procedures to reduce the chance of expensive wheels getting damaged.
A supersized turntable provides an internal clamping capacity of 533 mm and external clamping capacity of 457 mm. With a long list of time-saving features, you'll safely mount low-profile performance tyres and wheels with little effort.
High-torque electric turntable
Featuring faster operating speeds and reverse-direction control for easier tyre swaps, this tyre changer reduces the risk of tyre damage, especially for low-profile and run-flat beads that need time to relax.
Enhanced bead breaker ​blade
The R745 tyre changers are fit with an advanced bead breaker ​blade. Its durable construction ensures better mechanical strength, as well as many years of dependable service life. A rubber bump stop ensures a smooth arm return, lessening shock loading and minimizing any wear on the pneumatic cylinder. Other moving parts are also kept safe by the bump stop.
Forged steel foot pedal levers
All Ranger tyre changers feature 100% forged steel foot pedals. This design makes the foot pedals remarkably lightweight, durable and non-reactive with chemicals, liquids and other inadvertent environmental elements. As the most-exposed part of your tyre changer, it was important to us that we find the best material for your shop. Many other brands use cast-iron pedals, which are heavy, susceptible to rust and require more maintenance over time.
Sealed tight
Protecting the internal workings of your tyre changer is first and foremost in our minds, so there's little to no component maintenance for you to worry about. Every main‐lead electrical terminal, auxiliary switch and motor enclosure is air‐tight, dust‐free and utterly safe from contamination.
High-pressure polyurethane pneumatic tubing
Our R745 tyre changers come standard with high-pressure polyurethane pneumatic tubing that's constructed with a smooth, seamless bore to improve flow. The tyre changer's tubing boasts a high abrasion resistance, as well as high burst tolerance and total kink resistance.
Specially engineered drive-belt
The convex sidewalls on the R745's drive-belt evenly disperse wear. As a result, the tyre changer itself lasts significantly longer in your shop due to the improved belt support. Flex‐bonded cords and flex‐weave covers keep away contaminants and pollutants, such as water and oil, as well as weather conditions that are out of your control.
Maintenance-free gearbox
Ranger is proud to offer tyre changers so well-constructed, you never have to service their gearboxes. The R745 tyre changer is no different. Like our other models, it features an impressive oil and grease tank, which releases heat and better lubricates the components. Internal baffles work in conjunction with a constant-seating stress flange gasket to provide low temperatures though superior venting and zero fluid leakage.
Upfront controls
We keep our tyre changer controls upfront and logically arranged for both speed and ease-of-use.
Aluminum pneumatic cylinders
To keep machine vibration and fiction levels low and extend the life of your tyre changer, Ranger optimizes the stainless steel and aluminum pneumatic cylinders. Specifically, we've made sure internal end-of-stroke cushions come included on each cylinder, protecting the seals, wear band and piston rod. Each cylinder is continuously lubricated during use, further lengthening the life of your unit and strengthening our claim that Ranger makes the best tyre changers in the world.
Alloy steel mount & demount head
The equi-dimensional shape of our mount and demount head lets you change tyres without changing the position of the tool head. The tool head surface is manufactured micro-smooth, so mounting gliding tyre beads into place is easy. Your tyre changer is useless if it busts tyres during routine operations, so our hardened alloy steel mount and demount head is specially designed to keep your tyres safe at all times, even in the busiest shop environments.
All the extras come standard
We want you to have the means to clean, protect and maintain your tyre changer without having to spend extra or go out of your way. A soap bucket and brush comes standard, along with turntable jaw covers, bead‐breaker blade boots and mount / demount head covers. Everything can be stored right in the tyre changer itself, so you're not losing things, searching around the shop and ordering extras of what you think you've lost. To keep you swapping tyres with the best of them, a steel tyre iron and bead lever tool comes included with your purchase. You'll find it is an indispensable tool that every tyre changer operator should be familiar with and capable of using during mount and demount procedures.
45mm spring assist hexagonal vertical tool shaft
A rigid 45 mm spring assist hexagonal vertical tool shaft and hardened‐steel horizontal outrigger support arm keep the mount-demount tool head perfectly still during operations. This all but ensures you won't damage expensive wheels due to a loose or shifting tool head. The tyre changer is fitted with linear guide bearings that make it easy to adjust both the vertical and horizontal wheel settings. These guide bearings are completely maintenance-free for the entyre lifespan of your tyre changer. The non‐flex horizontal arm boasts a hardened lower roller guide for controlled, balanced movements.
Tyre inflator features
A pistol-type tyre inflator with a sure‐grip clip‐on valve chuck has never been easier to operate and permits full-function, hands‐free operation.
Plenty of storage
Keep your shop clean, calm and ready for anything. Your tyre changer has enough storage to hold all provided tools and accessories, as well as other items you want nearby while you work.
Optional motorcycle turntable clamps
If you need to service motorcycles, you need a set of optional motorcycle turntable clamps to accompany your tyre changer purchase. They're rugged, dependable and guaranteed to add versatility to your work efforts.
Features
Inflation gauge with integrated air dump valve: standard / pistol type
Water filter
Oiler / lubricator
Air regulator
Breaker bar
Large soap / lubricator bucket
Brush
Traveling drop-center hold down device
Inflation restraint device
Tool tray / bin storage
Motorcycle turntable clamps (optional)
R745 Specifications
Style
Style:
Fixed Tower Design
Assist
Assist Type:
Single-Tower Assist
Drive System Type
Electric / Air
Motor
3 HP (220 VAC 50-60 HZ)
Air Requirement
110 - 175 psi (8 - 12 BAR)
Wheel Clamping Method
4 Internal / External Clamps
Table Clamping System
Dual pneumatic cylinders
Bead Breaking System
Pneumatic Blade
Power Assist Towers
Optional
Tower Design
Rigid / Fixed
Bead Lifting Roller
Single / Left
Internal Rim Clamping Capacity
304 mm - 533 mm (12" – 21")
External Rim Clamping Capacity
254 mm - 457 mm (10" – 18")
Turntable Tyre Width Capacity Mount
127 mm – 305 mm (5" – 12")
Bead Breaker Tyre Width Capacity Demount
76 mm – 279 mm (3" – 11")
Maximum Tyre Diameter
991 mm (39")
Shipping Weight
220 kg (486 lbs.)
Shipping Dimensions
1,041 mm x 889 mm x 990 mm (41'' x 35'' x 39'')