Clip-On Wheel Weight / 0.75 oz
SKU# 5150260
Clip-on Steel Wheel Weights Coated / Qty. 25
---
Clip-on steel wheel weights by Ranger weigh .25 oz. to 3 oz. each, increasing in 0.25 oz. increments. These weights can be fit to virtually any wheel type for every conceivable wheel balancing application.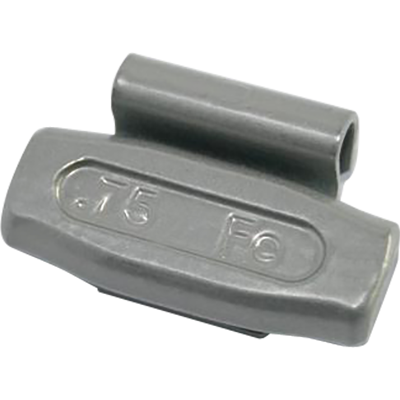 Clip On and GO!
Clip-on weights make wheel service easy. Each weight class is sold in a set of 25, and most are made a little heavier than our stick-on wheel weights, so you never have to use a ton of steel weights to get the job done. If you're looking to save time and energy, all you do is clip the weight into place and you're done. Zero mess and zero cleanup. Your shop looks better already.
Of course, these wheel weights are 100% lead-free and environmentally friendly. They're also extremely durable and provide incredible hold on any wheel size.
Features
Powder-coated surface helps eliminate corrosion and staining of expensive wheels
Strong adhesive backing for dependable attachment
Clips on easy for an extremely tight hold
Lead-free, steel construction has less impact on the environment
Meets national environmental laws and health and safety codes
Designed to have same fit, function & look as OEM weights
Narrow profile contours easier to OEM wheel shapes
Slender profile and out-of-sight mounting capability enhance the looks of any wheel
Low-profile design for increased clearance of close-proximity calipers or brake components
Reduces inventory cost by eliminating traditional wheel weight inventories and requiring less floor space
Specifications