Support
IMPORTANCE NOTICE: Information contained in this section may not reflect the terms and conditions of our international distribution network. For the most accurate information, please contact us.
LTL Service
LTL (less than truckload) service is the most common method of shipping for all BendPak and Ranger heavy items that are over typical parcel size. Our LTL contract carriers are YRC, Con-way and Estes. These leading freight providers handle and track hundreds of BendPak shipping transactions daily. They generally utilize enclosed vans or trailers with rear roll-up doors that provide access to the inside of the trailer. These carriers have strategically placed terminals located across the United States where they are able to consolidate all of their freight to be picked up and delivered. As a shipment moves from pick up point to destination it will be placed with other freight that is bound for the same area to be delivered. It is important to realize that LTL shipping involves additional handling as other shippers' freight is often loaded on and off the truck en route to a destination.
Flatbed Service
Flatbed service is commonly the only chosen method when shipping heavy items that are oversize and not conducive to standard LTL handling (freight cannot easily be transferred in and out of cargo vans or trailers). A list of products that must be shipped via flatbed service only can be found here. For the handling and transportation of oversize or delicate cargo, flatbed service is usually a more reliable means. Freight is loaded onto owner-operator flatbed trucks at our facility in Santa Paula, California and most likely never handled until delivery. Using flatbed service involves the least handling, which translates to minimal risk of loss or damage while in transit. Transporting equipment via flatbed may increase the delivery time, but many of our customers feel the added assurance of minimized damage is worth the wait.
Question - Why do flatbed shipments take longer to leave BendPak's shipping facility?
Answer - It takes longer for flatbeds to depart because it takes time to fill the truck with shipments destined on a similar route.
Q - Why do flatbed shipments reduce the possibility of damage?
A - Your equipment will not be moved from one trailer to another. There is no loading and offloading between our loading docks and the destination. We build the most efficient route possible to keep the transit times to a minimum. The equipment is transported from our door straight to yours.
LTL Service
Pros
Convenient and flexible
Outbound trucks are readily available.
Freight is easily trackable during transit via Web tools.
Lift gate deliveries available for certain crate size shipments.*
Will calls or dock pickups are available.*
Residential deliveries available.*
Consignee can be contacted with pre-arrival notification.*
*Additional fees may apply
Cons
Freight is loaded onto trailers with other "non-BendPak" freight.
Freight is unloaded and re-loaded multiple times at different regional freight terminals.
Transit time: 1-2 weeks.
Flatbed Service
Pros
Flatbed trailers are best suited to transport loads that are impractical to transport in a regular enclosed van.
Reliable, dependable service.
Freight is side loaded onto flatbeds rather than pushed and squeezed into trailers or vans making it easier to unload freight at destination.
Less handling of the shipment translates to minimal risk of loss or damage.
Cons
Although BendPak mandates tarp covering for all flatbeds shipments, freight sometimes arrives non-tarped.
Partial flatbed shipments are sometimes delayed as operators search for additional freight to fill load.
Freight is sometimes difficult to track
Lift gate deliveries not available.
Will calls or dock pickups are not available.
Residential deliveries may not be available.
Transit times can range 2-3 weeks.
How do I know what shipment method BendPak will choose for my shipment?
LTL (less than truckload) service is the most common method of shipping for all BendPak and Ranger heavy items that are over typical parcel size. The day after your shipment leaves our shipping facility you will be contacted within 24-48 hours and given the name of the LTL carrier used and a bill-of-lading number or PRO number for your shipment.
For flatbed exclusive shipments (oversize or delicate), we will contact you prior to shipping your order and notify you whether your shipment is designated as a flatbed service shipment. You will be given the name of the owner-operator driver and details of the scheduled delivery date and what to expect. A list of products that are designated as flatbed exclusive can be found here.
How Can I Track An LTL Shipment?
For LTL shipments, contact YRC, Con-way or Estes and use their Web tools to track your shipments using the Pro number given to you. If you failed to receive a bill-of-lading number or PRO number for your shipment please contact our customer service department by calling 1-805-933-9970 or email us at contact@bendpak.com
How Can I Track A Flatbed Shipment?
Flatbed shipments are typically more difficult to track en route. Prior to your shipment leaving our facility you will be given the name of the flatbed company and a scheduled delivery date the owner-operator has chosen for your shipment. Flatbed owner-operators can be contacted via cellular service should a situation arise that affects your scheduled delivery. Please contact our customer service department by calling 1-805-933-9970 or email us at contact@bendpak.com if you require the phone number for the flatbed owner-operator.
What if I am unable to unload the product at my home or business?
Option 1: Our freight carriers have literally hundreds of terminals located across the United States. If you have explored all options yet still find you are unable to safely or efficiently unload the product at your home or business, it can be shipped to a freight terminal for customer will-call/pick up. Our courteous dealers or factory sales professionals will work together with you to find the closest freight terminal.
Note: Freight terminals have different operating hours and loading procedures. We advise all customers to contact the terminal directly in advance to inquire about operating hours and loading procedures.
The freight terminal will load the product onto the customer's trailer or pickup truck. Open trailers are easier to load and unload than an enclosed trailer. Be sure to bring some form of photo ID in order to pick up your product at the freight terminal.
Option 2: BendPak uses a nationwide network of independent contractors for lift installations. In the event you wish to have a lift installed by a professional team, you may be able to have the lift shipped to their facility and then delivered at the time of installation. If you would like to have a lift installed at your location, please contact one of our nationwide network of independent contractors or inquire through our customer service department by calling 1-805-933-9970 or emailing us at contact@bendpak.com.
Option 3: Some of our LTL freight carriers have hydraulic lift gate service on their delivery trucks. There will be an extra charge for the lift gate delivery depending on the carrier. Lift gates are normally rated at a 1,000-lb. capacity and have certain size limitations; however, depending on the size and weight of your shipment, hydraulic lift gates do allow some of our customers the ability to offload many of our products without the use of a forklift. Remember, it is always the customer's responsibility to unload the truck. If the hydraulic lift gate brings the product to the ground, it is the customer's responsibility to get the product off the hydraulic lift gate. Always be prepared before the truck arrives.
If I have an item shipped by truck freight, is the driver responsible for unloading the merchandise?
No, truck freight companies do not require their drivers to unload shipments. It is the buyer's responsibility to unload the freight at their location. BendPak / Ranger will take no responsibility for any additional charges incurred from the renting or acquiring of equipment for the purposes of unloading items off of a delivery truck. An additional fee will be applied to all residential deliveries of heavy equipment and to any lift gate service. Shipping and handling rates are subject to change without notice.
Can I call ahead to schedule a delivery appointment?
Your BendPak dealer can instruct the trucking company to call 24-hours before delivery to schedule the delivery of your product. There is a minor fee, but this "call ahead" service is quite popular. When contacting your dealer to request this service, be sure to give your cell, residential or work phone number so that immediate contact can be made and any potential delivery delay can be avoided. If your shipment is being delivered to a business during normal business hours with freight-handling facilities, then the call-ahead feature is completely unnecessary. Please be aware that this call-ahead service may add one to three days to your delivery estimate. It is the customer's responsibility to work out the delivery arrangements with the freight dispatcher during initial contact with the shipping company. If you have special needs or delivery instructions, that is the time to discuss and make those arrangements. BendPak Inc. does not own the delivery trucks or employ drivers for delivery, nor is BendPak liable for inaccurate information delivered by the end user to the shipping company.
What To Expect On Delivery Day
Normal Shipping and Handling Abrasions
Please note that BendPak has no control over the shipment once it leaves our warehouse and we cannot be held responsible for shipping damage(s) and/or lost package(s) once they leave our facilities.
Although we do our best to package your shipment to minimize damage, minor scratches and abrasions due to normal transportation and handling are expected. DO NOT refuse your shipment if you observe minor scratches or abrasions similar to those shown in the photos below. You may be responsible for round-trip freight charges if your claim for damage is denied.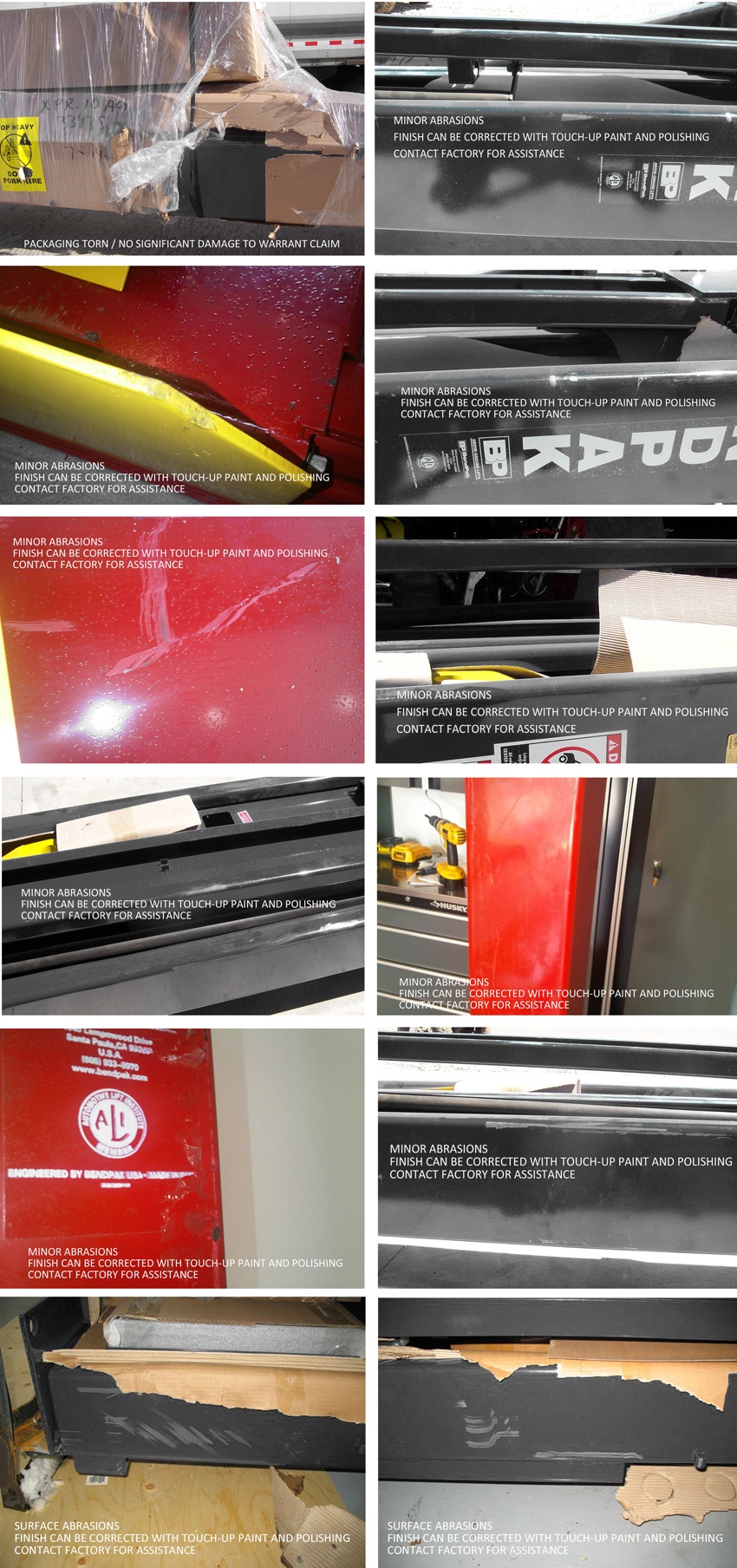 If any significant hidden loss or damage outside of normal handling abrasions and marks is discovered after receiving your shipment, see details below.
What if my freight is damaged?
Your freight will be professionally and securely packaged and in perfect condition when it leaves our facility. If a shipment is damaged when it arrives, you must sign "damaged" on the freight bill and make notes regarding the damage. It is also recommended that you take digital photos of the damage in order to expedite the claim-filing process. Please read all of the instructional and warning stickers before opening the package. NOTE: It is important that our customers understand that BendPak is not the shipping company. We will do everything we can to make sure your shipment is safe and secure, but after it leaves our dock it is consigned to you.
What is a bill of lading?
Shipments should be thoroughly inspected by consignee as soon as they are received. The signed Bill of Lading is acknowledgement by the carrier of receipt in good condition of shipment covered by the Bill of Lading. If any of the goods called for on the Bill of Lading are shorted or damaged, consignees should not accept them until the carrier makes a notation on the freight bill of the shorted or damaged goods.
What should be done about concealed damage?
Consignees must notify freight carrier at once if any hidden loss or damage is discovered after receipt and request the carrier to make an inspection within 48 hours. If the carrier is unable to do so, prepare a signed statement to the effect that you have notified the carrier (on a specific date) and that the carrier has failed to comply with your request (name of person you talk to, date and time of the conversation). Note that it is difficult to collect for loss or damage after you have given the carrier a clear receipt. File your claim with the carrier promptly and support your claim with a cargo loss and damage claim form, copies of the bill of lading, freight bill, product invoice, photographs, and inspection claim given to you by inspector after inspection is done. Note that BendPak / Ranger willingness to assist in helping you process your claim does not make BendPak / Ranger responsible for collection of claims or replacement of lost or damaged materials.
What will BendPak do about missing or incorrect products and parts?
At its discretion, BendPak will consider replacing any missing or incorrect products/parts from shipments at no charge provided consignee identifies and reports such items to the Customer Service Department within 30 days of date of receipt of order. Missing or incorrect products/parts from shipments will not be replaced if they are reported more than 30 days beyond the receipt of order.
When can a trace be initiated on my shipment?
Truck Freight: 10 working days after ship date.